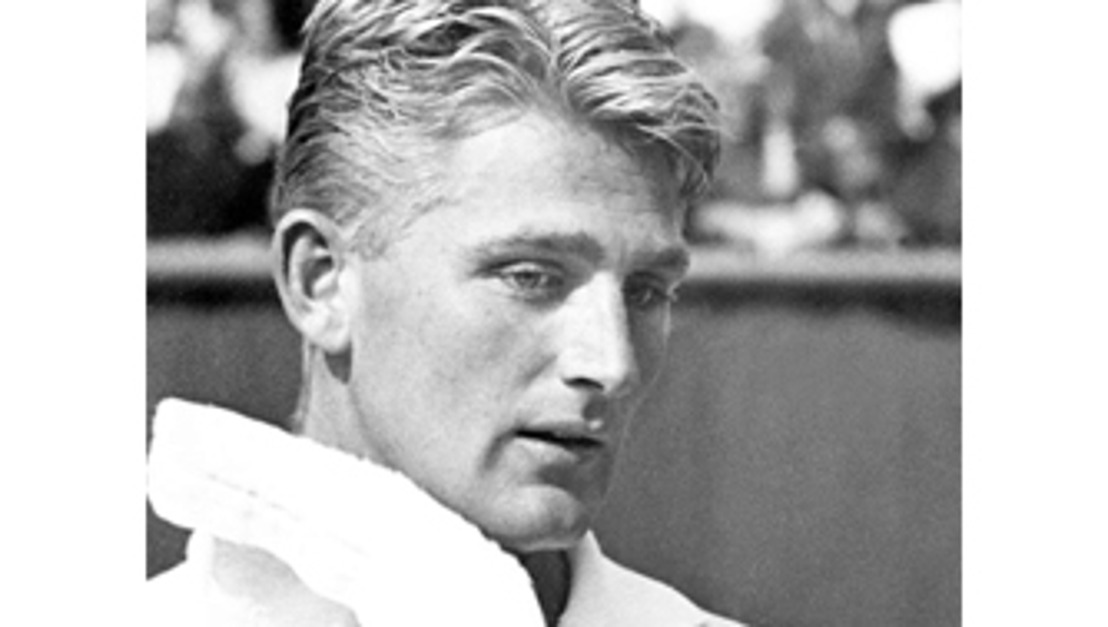 ANU MEDIA RELEASE: New additions to Australian Dictionary of Biography
Monday, April 23, 2018 —

Prominent Australians who made their mark after World War II, including actors, writers, artists, sports stars and aviators, have been immortalised in the latest additions to Australian Dictionary of Biography (ADB), based at the Australian National University (ANU).

The 76 new additions, who all died in 1994, include activist and author of Power Without Glory, Frank Hardy, tennis great, Lew Hoad, actors Frank Thring and Leonard Teale, writers Mary Durack and Nene Gare, and the aviatrix Maude (Lores) Bonney.

ADB General Editor Professor Melanie Nolan said colourful figures such as the Soviet-born Charles Zakharoff, who rose from his migrant beginnings as a taxi driver to become friends with the likes of NSW Premier Sir Robert Askin, and the High Court judge Sir Frank Kitto reflected a new social movement.

"The post-war period was a time of enormous social change in Australia," Professor Nolan said. "Making a huge impact were married women for the first time returning to the workforce after starting a family.

"Many of them had worked during the war and people like Eva Bacon, who fled the Jewish persecution of Europe and became a dress maker in Brisbane, began advocating for equal pay and affordable childcare which changed the nature of the workforce, arguably for the better."

Professor Nolan said this year there were fewer Indigenous entries because many are being reserved for a special Indigenous volume of the ABD, with 20 biographies of Indigenous women planned to celebrate NAIDOC week in July.

However, notables such as 98-year-old 'Tracker' William Robinson, a Bundjalung Aboriginal Man from Casino in NSW, appears both for his fame as a boxer and for his tracking and horsemanship skills in the police force.

"It was also sadly a sign of the times that Tracker Robinson, despite his many years' service to the NSW police force, was denied a pension on the basis of his Aboriginality," Professor Nolan said.

"When his contribution to the police service was finally acknowledged just before his death, he described it as the most important thing to happen in his life."

She said the post-war period also saw a massive expansion in the university sector with enrolments increasing from 30,000 to 400,000 in the period up to 1994.

"Out of the Universities came the veterinary scientist Edward Albiston, the neurologist, Bill Burke and Eugene Kamenka, the German-born Jewish immigrant who after studying philosophy at Sydney University worked as a journalist in Israel and Sydney before post-graduate studies brought him to the ANU," she said.

"His thesis 'The Ethical Foundations of Marxism,' remains his best-known work. He led the History of Ideas unit in the Department of Philosophy, ANU, and made major contributions to scholarship."

As well as the Indigenous Dictionary, the ADB is also producing a special edition of Colonial Women, and a project to document the lives of all of those people who arrived on the first three fleets.

The new biographies can be found here: http://adb.anu.edu.au/biographies/death/?ddate=1994&order=name&sortOrder=asc

FOR INTERVIEW:

Dr Malcom Allbrook
Managing Editor, Australian Dictionary of Biography
National Centre for Biography, ANU
T: +61 2 6125 4455
M: + 61 418 926 985
E: Malcolm.allbrook@anu.edu.au

For media assistance, contact Jane Faure-Brac on +61 459 852 243 or the ANU Media Team on +61 2 6125 7979 or <media@anu.edu.au>.