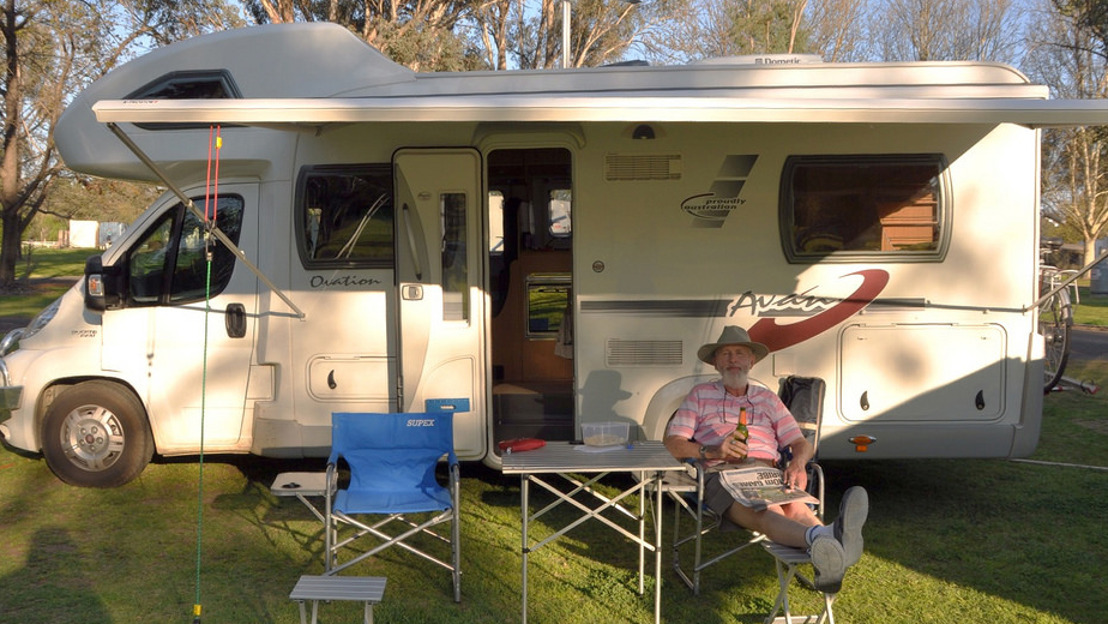 How we became grey nomads, seachangers, and bogans: The Australian National Dictionary turns 30
Thursday, November 15, 2018 —

Do you know someone 'doing a Johnny Farnham'? Have you played the 'thongophone'? And how do you think Australia's 'koala diplomacy' is working?

These "Australianisms", contenders for the next edition of the Australian National Dictionary (AND), prove Australian English is alive and well on the 30th anniversary of the Dictionary.

First published in 1988 by Oxford University Press Australia and New Zealand (OUP ANZ), the AND records the history of uniquely Australian words from their first appearance in print to their most recent usage.

Director of the Australian National Dictionary Centre, (ANDC) based at The Australian National University (ANU) Dr Amanda Laugesen said a perception that Australian English is being displaced by American English is simply not true.

"Certainly we see American terms, especially slang, coming into our language, but our research reveals a lot of new words continue to enter Australian English," she said.

"Phrases like 'koala diplomacy', where we use koalas as gifts to other countries as a form of Australian soft power diplomacy, or 'doing a Johnny Farnham' – a reappearance after an apparent retirement, are evidence that our distinct brand of the English language is flourishing.

"In our anniversary year, we're looking back over 30 years of words that have emerged as a result of political influences, lifestyle changes, events or social and cultural trends which have shaped the language.

"Words like 'sheila', 'bonza' and 'cobber' recognised as typically Australian have largely fallen out of use, but many new Australianisms have entered the language. For example, Invasion Day, stolen generation, and welcome to country have entered the language as a reflection of the impact of Indigenous politics.

"Demographic shifts have given us seachangers and grey nomads and in some cases, one word such as bogan has been adopted nationally, largely replacing regional terms such as chigga (Tasmania), westie (NSW), booner (ACT), and bevan (Qld)."

Dr Laugesen said over the last 30 years, politicians have given us some new words.

"John Howard gave us the barbecue stopper, Julia Gillard gave us the captain's call and Tony Abbott popularised shirtfront.

"Our tendency to add '-ie', '-y' or '-o' to the ends of words continues to be an Australian trademark," said Dr Laugesen, citing recent examples: firie, ambo, schnitty, exxy, deso and devo.

"Australian English continues to be very much marked by its acceptance of informality and use of slang," she said.
The second edition of the AND was published by OUP ANZ in 2016 and a third edition is underway, with online content under consideration.
To mark its 30th year, the ANDC has highlighted words emanating from each of the three decades of its existence:

From the 1980s:
enterprise bargaining
economic rationalism
razor-gang
the Accord
Invasion day
Survival day
stolen generation
makarata
native title
terra nullius
flat white

From the 1990s:
budgie smugglers
muggachino, babychino, magic
barbecue stopper
headland speech
Sorry Day
welcome to country
seachange
grey nomad

From the 2000s:
tree-Change, Desert change
captain's pick, captain's call
democracy sausage (word of the year for 2016)
shirtfront
not happy Jan
FIFO

FOR INTERVIEW:
Dr Amanda Laugesen
Director, Australian National Dictionary Centre
School of Literature, Languages & Linguistics
ANU College of Arts and Social Sciences.
T: (02) 6125 0474
M: 0412 741 551
E: amanda.laugesen@anu.edu.au

For media assistance, contact Jane Faure-Brac on 0459 852 243 or the ANU media hotline on 02 6125 7979.