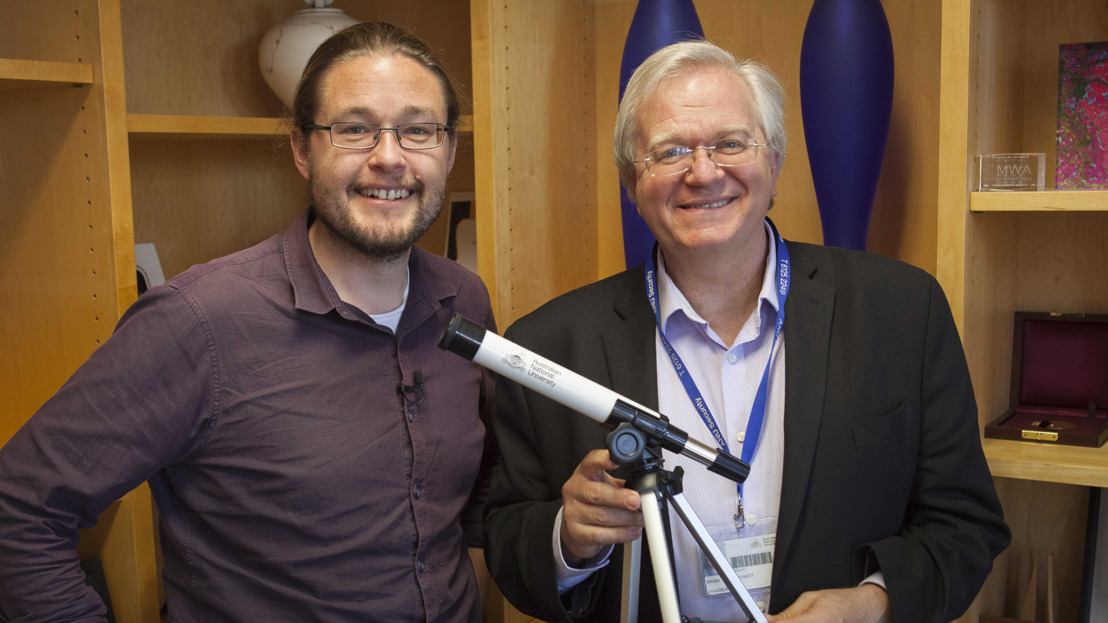 VIDEO: ANU seeks to break own stargazing Guinness World Records title tonight
Friday, April 13, 2018 — Nobel Prize-winning astronomer and ANU Vice-Chancellor Professor Brian Schmidt is preparing for tonight's attempt to smash the University's own stargazing Guinness World Records title with fellow ANU astronomer Dr Brad Tucker.
In the video, Brian and Brad cover stargazing 101, including important safety tips: https://youtu.be/5WPd74dVoIQ
The Mount Stromlo Observatory at ANU holds the current Guinness World Records title for the Most people stargazing multiple venues – 7,960 participants across 37 locations in Australia looked up to the night-sky simultaneously on 21 August 2015.
ANU is partnering with the Australian Broadcasting Corporation (ABC) to attempt to break a stargazing Guinness World Records title set by the University three years ago.
The Guinness World Records attempt will coincide with the ABC's Stargazing Live TV event broadcast from the ANU Siding Spring Observatory. Hosted by Professor Brian Cox and popular TV personality Julia Zemiro, Stargazing Live will air at 8.00pm AEST, 7.30pm ACST, and 6pm AWST on ABC and ABC iview on 22, 23 and 24 May 2018.
More than 200 stargazing parties are being held across the country tonight in an effort to smash the Guinness World Records title set in 2015.
ANU is calling on Canberrans and others in the region to volunteer as official counters at the ANU Canberra Star Party event from 6pm to 9pm tonight as part of the Guinness World Records attempt. More than 4,000 people have registered to participate in the ANU event as stargazers.
People can register as official counters at <http://www.anu.edu.au/news/all-news/we-want-you>.
FOR INTERVIEWS:
Dr Brad Tucker
Research School of Astronomy and Astrophysics
ANU College of Science
T: +61 2 6125 6711
M: +61 433 905 777
E: brad.tucker@anu.edu.au
For media assistance, contact Will Wright on +61 2 6100 3486, the ANU media hotline on +612 6125 7979 or email the ANU Media Team at <media@anu.edu.au>.
Stargazing 101 with Brad & Brian